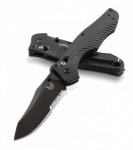 -Price Paid: $180.00
-Used for Every Day Carry
-Owned for 6 months
Comments:
This knife is fantastic. I have used it on everything from cardboard to wood to aluminum cans. It has remained sharp and excellent. The blade material is perfect. And everything is well worth the price. It is by far the best knife I have ever handled. If you dont yet have one get one! And lots of people say they dont like the rigidness of the scales but I actually like it a lot. It is not at all uncomfortable to me. I did NOT have to sand it down at all. It came perfect and it stayed perfect!
---
Comment by Casey Vanhook 12/25/2015
Sounds to me like both of you have a hard on for trolling. It doesn't matter what he bought the knife for as long as he likes it. Same with me I love my contego and the ergos work for me perfectly, don't down play a knife just because you do not like it. I can tell that both of you have a problem hearing things you don't like or that are against your opinion.
---
Comment by Hater of haters who have never 08/18/2015
The post above shows nothing more than the fact that " the collector" has teeny tiny hands and has never actually done anything in the field with the tool. It's a very useful tool, unlike the reviewer above.
---
Comment by anonymous guy 11/08/2014
then you didn't use it much if you say the ergos are good. this is by far the worst ergos i have ever seen on a knife period. i have owned more than 400 different styles of knives both cheap and expensive and i stand by what i said. take it out of your pocket and actually use it rather than hype up something that you clearly wasted $180 on so you can feel better about your purchase.