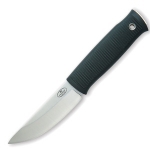 -Price Paid: $150.00
-Used for Outdoor/Survival
-Owned for 6 months
Comments:
This is an excellent hunting knife with outdoor and bush craft capabilities. Can easily serve as a back up knife in survival situations and all sorts off outdoor use. The build is just solid, with a choice of sturdy materials, therefore a dependable companion. Handle ergonomics is great tho some might miss some kind of finger guard . this is no real issue in game processing and meat cutting but can be a little concerning in bushcraft.
As far as overall 'performance' goes , this can only be determined by your needs and how well it meets them.
---
Comment by user 11/28/2017
the handle is NOT thermorun. It's Kraton (like on Cold Steel knives). People confuse both but they're not the same. Thermorun is harder while kraton is a little bit softer. The difference is noticeable. Kraton will be more grippy when wet.
---
Comment by 12/08/2014
I don't have this knife but I am justified on commenting on this question, as I collect Fallkniven's. My review is subjective as my favourite Fallkniven is the F1. The handle of H1 is thermorun. A hard, but tacky feeling polymer substance. It is anti conductive, solvent, heat (to a point)
---
Comment by Greg 01/13/2014
How does the handle grip in wet conditions?