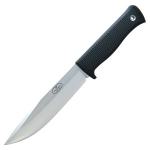 -Price Paid: $200.00
-Used for Light Duty/General
-Owned for Greater than 1 year
Comments:
This knife is a great disappointment. No trace of Swedish quality. Edge of the blade is so soft that it can be bent nail, blunt easily and quickly corrodes! Convex blade geometry is poor due to the large thickness close to the edge. It must be reprofiling.
---
Comment by Denis 11/21/2015
I own a Fallkniven A1 and I used it in different situations including camping, fishing, hunting in Canada in hot and very cold temperatures. Even if its not a hunting knife or a fishing knife I tried it just for the joke of it. Well its no joke anymore. The god damned thing was doing pretty well. Amazing knife even in non conventional use. Its very strong and the edge retention is very amazing. Its now one of my favorites with my esee 6 survival. This is no cheap thing fore sure and its stainless ( less maintenance against rust than my esee 6). Now some are complaining because its european but its well done. The only bad thing about this knife is the handle guard (Kraton instead of steel) but I heard that they now produce a cobalt steel A1 pro with steel handle guard. Hope to see and use one to compare.
---
Comment by Paul G 03/29/2015
I agree. Dragan was fooled by a cheap Chinese knockoff. I have 5 Fallkniven knives and they are of fabulous quality. I dont believe a syllable of that drabble.
---
Comment by James 02/20/2013
Yep, Dragan, seems you were not sold a Fallkniven.
---
Comment by Paul 10/08/2012
Dragan, I do not believe one word of that nonsense, you must have been fooled and bought a Chinese version of this blade, I have seen them and you describe that exactly, not a real Fallkniven, get to know your knives!!!