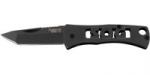 -Price Paid: N/A
-Used for Other
-Owned for 3 months
Comments:
This is a small gimick knife made by SOG. I'm pretty unimpressed, even for what it is.
It is very thin and and not particularly comfortable to hold. It is designed to have two fingers and a thumb on the knife when you hold it.
The thing I'm most dissappointed about is the fact that there aren't any bushings in the pivot. It is flat metal on flat metal. They've added some liquid lubricant that runs out on the blade every time the knife it opened. It's very difficult to open and not even fun to play with.
I got the knife for free and understand that this wasn't designed for heavy use. I suppose it would be worth having as a keychain in case of emergency, but I don't think I'd ever actually buy it, even if it is only 10 bucks or whatever.
---
Comment by Jeff Steinorth 06/13/2015
Bought two. Both great form, fit and finish, however, second was as stated above, lock spring almost impossible to push to release. Called Co. The know the problem (it is often the case), and would replace, but since it cost me $10, I will just return to store and hopefully get a second one like the first. A good knife for my survival kit. Goes well as the striker with cerium rod, and great weight to usefulness ratio. Yes, SOG could have made a better specification to China.
---
Comment by Adam 02/11/2015
I carry this knife with me wherever I go. I have to disagree with the reviews above. This little knife is extremely useful, extremely sharp, and easy to take places where other knives are often not welcomed. This knife should not be considered a replacement for a proper knife, but when you just need something in your pocket for everyday use, I highly recommend it as a solid backup option.
---
Comment by Joe 02/02/2014
I've had this Micron for a month now and, like the above review, I'm very disappointed. It is very difficult to close without using a significant amount of force. The spring lock is extremely stiff and requires nearly 30 lbs of force (yes, we measured it) to push before the blade can be closed. Although I got it for free at the SHOT show in Las Vegas, I wish SOG would put out a better sample to represent their, otherwise exceptional product line.