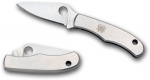 -Price Paid: N/A
-Used for Other
-Owned for Less than 1 Month
Comments:
Well, this knife is basically Spyderco's gimmick knife that they hand out at shows and such. I got this for free when I ordered another knife.
It is stainless steel, 3Cr13MoV steel, and very small. In fact, short of some very specific tasks(scraping, etc) I find that it's not very useful to me.
It's a bit small to every day carry or really use. It would however be nice to have on your keys in an emergency. If I was out in the woods, I'd take it over nothing.
One thing that really impresses me about it are the ergonomics of it. It is designed for two fingers and a thumb, and it actually holds in the hand pretty well.
I haven't hard to sharpen it or anything, and it comes out of the box pretty dang sharp. The build quality isn't half bad either.
All in all, I don't really have any complaints other than the fact that it's a bit too small to be useful to me. I think it would make a cool little gift for a knife guy or maybe an interesting stocking stuffer.