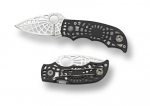 -Price Paid: $30.00
-Used for Every Day Carry
-Owned for Less than 1 Month
Comments:
The Spyderco S is an exceptional knife for the value. I paid $30.00 for mine and couldn't be happier with the purchase.
The ergonomics of this knife are really amazing for the size of it. With a closed length of 3.5" you wouldn't expect to be able to fit your whole hand on it comfortably, but with this knife my hand fits perfectly. The jimping on this knife is sharp and grippy, but not so much as to hurt your fingers.
The blade length is 2 7/16" and a cutting edge of 2 1/8" which has done the job for me. There is no blade play whatsoever and the lockup is solid. I really like the Spyderco compression lock on it. It doesn't take much to release it, but isn't flimsy at all.
It weighs only 2 ounces, so when you are carrying it on your person, you don't even realize it is there.
The edge on this knife is exceptional as with all Spyderco knives. Out of the box it is shaving sharp and cuts paper with ease.
Overall I really like all aspects of the knife, as well as the aesthetics of it. I think that if you can get this knife, you definitely should!
---
Comment by pat hender 05/02/2013
I own three so far and will buy any more I see.fits hand better then any knife j own. Feather light.sharp as a razor. Looks so cool.no blade play and lock up is tight butthole.insane collectors piece.I have one for edc the other 2 are for show. The silver is the hardest to find I have one silver and 2 black.I just love the compression lock it makes this knife perfect.10 put of 10.mim. technology us sweet I wish they did more. Knife started at $40 msrp. Now are up to $200 and still worth it.