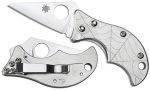 -Price Paid: N/A
-Used for Light Duty/General
-Owned for 3 months
Comments:
The Spin is a great "small knife." It's great for zipping things open.
The ergonomics are good, in my opinion. Keep in mind that this is designed to be a 2-finger knife with the thumb placed on the thumb ramp. I find it comfortable when used that way.
The quality is excellent. Nothing bad to say about that. The clip, however, didn't quite touch the scale. I don't know if it was designed to be that way, but it made the grip on the pocket a little loose. I tried to bend it a little bit, and the clip ended up cracking.
VG-10 is great. It takes a super edge.
For $33, the Spin is an excellent "small knife." If you're looking for a knife for small cutting tasks, you will be pleased with the Spin.