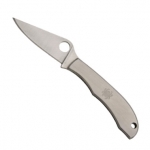 -Price Paid: $8.00
-Used for Light Duty/General
-Owned for 6 months
Comments:
Awesome little knife and very capable for it's size. You won't baton through a tree but if you need a razor sharp blade that can fit anywhere this is great. I keep mine in my wallet! You can't expect allot from it tho... It feels secure enough in the hand but if you have large hands you might want to get a bigger blade. The construction is very simple so I don't think you will get any problems with it falling apart. Excellent value IMO. It's a knife you forget you have until you need it.
---
Comment by B ZEE 11/12/2012
This is not a spyderco it's a china made knife. Get a real knife then do a review.