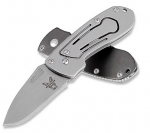 -Price Paid: $20.00
-Used for Light Duty/General
-Owned for Greater than 1 year
Comments:
Now I don't expect much from a key chain knife, so in terms of ergonomics, I can't really dock it too much points. After all, it's suppose to be small in the hands. Either way, for the cost and quality of the knife, I have to say it is quite worth it.
Blade:
The blade steel is AUS8 with a blade length of around 1.92". Not much to say here. It's not the best steel in the world, but is there really a reason to have high grade steel on a key chain knife? AUS8 is great at what it does, and this knife came with a razor edge. I haven't put this blade under hard usage (why is there a need to for a small knife like this?) but for small tasks such as cutting open envelopes, opening bottles (I just use leverage), and other small tasks, it does the job.
Handle/Ergonomics/Locking:
Now one thing that I love about this knife is the locking mechanism. It is a fantastic lock called the "Levitator Lock". The great thing about this is the fact that the knife will lock closed or opened. I won't go into the specifics of how it works (you can see that on the Benchmade site) but I find it to be a fantastic lock. Additionally, if you become proficient enough, you can easily open the lock with one hand with a little flick of the wrist. Even better, for such a small knife, the fit and finish is definitely above average. There is absolutely no blade play and the blade was fairly centered in the handle.
Overall/History:
This is a great key chain knife that can easily be attached to the key chain. I will however admit that the weight isn't the most comfortable on a key chain if you like to have it light weight. It ranges around 1.6 oz and as light as that may sound, combining that with a bunch of other keys might add to the weight. Overall, this is a fantastic knife and hopefully, many will purchase one. They aren't too expensive and since it is constructed fully of metal, it is a rugged little piece.