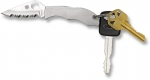 -Price Paid: N/A
-Used for Every Day Carry
-Owned for 1 year
Comments:
The LadyBug by Spyderco is a perfect keychain knife. Available with SE or PE
Weight: It is almost weightless coming in at .6 ounces.
Sharpness: Straight out of the box, the knife is shaving sharp.
Blade Shape: Modified Clip Point with a double hollow grind makes small to medium cutting tasks a breeze. Easy to maintain the edge with a small field stone or a sharpmaker.
Construction: Pinned construction makes this knife worry free as far as adjustments. Solid back lock ensures safe operation time and time again.
Overall/Conclusion: Available in VG-10 or H1 this knife is a must have for collector as well as the regular infrequent knife user. The knife is available in multitude of colors to suit almost any tastes, including Yellow, Foliage Green, Black, Orange, Purple, etc.
If you don't own one, you owe it to yourself to have one on your keychain. You will find yourself using it often.