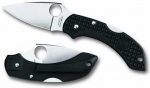 -Price Paid: $40.00
-Used for Every Day Carry
-Owned for 3 months
Comments:
The Spyderco Dragonfly has a blade length of 2-1/4 inches, a cutting edge of 1-7/8 inches, an overall length of 5-1/2 inches, and weighs in at 2.0 ounces for the G-10 handle version, and 1.2 ounces for the FRN handle version. The blade steel is fully-flat ground VG-10, available in plain and fully-serrated edges. Additionally, in 2011, a version of the Dragonfly was made available with fully rust-proof H-1 steel. There is also a stainless steel handle version of the Dragonfly, but I have not been able to handle it, so I will not speak to that variant in this review.
The Dragonfly has a thin blade profile and an ever-so-slight curve/belly which makes this blade an awesome and versatile slicer, and the edge geometry (grinding of the secondary bevel) is extremely even and crazy sharp, like nearly all Seki City Spydercos I have encountered. The edge itself is ground at about 30 degrees inclusive (both sides), and only needed a few swipes across my sharpmaker's fine rods after a long day of cardboard box cutting to bring it back to hair-popping sharpness. The tip is extremely sharp and pointy, which increases the knife's usefulness in tasks like digging out splinters and executing other fine-grained, detailed cutting tasks, but will break off if you attempt any kind of prying with the blade.
Opening the Dragonfly is an absolute breeze. Like almost all Spyderco knives, there is a round deployment hole bored out of top of the blade. To open the knife, you hold the knife in your dominant hand, put the pad of your thumb into the hole, and rotate your thumb clockwise until the knife locks open. I've heard of people "flicking" open their Spyderco knives, but I just don't understand why, when you can smoothly and swiftly bring the knife out with the deployment hole. It's reliable, super-easy, and fool-proof, especially on this form-factor of knives. On larger blades like the Endura, I can see where the deployment hole might be difficult to use for people with small hands (like myself). Conversely, the Dragonfly might be difficult to use if you have king-sized mitts.
Like many Spyderco knives, the Dragonfly uses a lockback mechanism to secure the blade in the open position during use. There was absolutely no wiggle in any direction on either of the knives I examined, except during heavy cutting tasks (cutting into a large block of cheese), when I noticed the slightest amount of vertical "give" in the blade. Further research has confirmed that this is normal, inherent to the lockback design, and is not a liability or failing of the knife in any way.
Currently, the Dragonfly is available in three different handle materials: FRN (fiberglass reinforced nylon) with a wire pocket clip, textured G-10 and steel liners with a wire pocket clip, and stainless steel with a traditional metal pocket clip. Of these, I own an example in FRN, and have given a G-10 version to my girlfriend. The FRN has the same aggressively-molded texturing of the most recent iterations of the Delica and Endura, and as a result locks into one's hands well. Additionally, the texturing is designed to be useful both in-hand and when pulling the knife out of one's pocket. The G-10 model is finely textured, one step above the Tenacious-line's G-10 in terms of grippiness and overall quality.
In hand, the knife is extremely comfortable to use, and feels very much like a larger knife, being easy to handle and control despite its small size. The jimped choil allows one to safely "choke up" on the blade for increased control, and facilitates getting all five fingers around the knife. It's easy to forget you're using a roughly two-inch blade. By comparison, the Kershaw Scallion (same blade length and similar overall length) is much more difficult FOR ME to maintain positive control over the blade due to the smaller handle size and overall form factor.
In pocket, it's easy to forget you're even carrying this knife (which is a good thing). Closed, the Dragonfly is a bit wider than competing knives in this size range, but it's not to the point that it becomes a nuisance. The wire pocket clip may look dinky at first glance, but does an outstanding job of securely retaining the knife in-pocket until you pull it out. I've gone on day-long bicycle rides with the Dragonfly clipped to my pocket, and it's held on tight the whole way. Additionally, the wire clip facilitates a very low carry profile. It's not invisible, as you can still see just under 1/2 inch of the handle protruding when the knife is clipped to a pants pocket, but this makes getting a grip on the knife and pulling it out easier. For this small of a knife, if the wire clip were a "low-rider", I think it'd be very difficult to draw the knife efficiently. The G-10 version does "stick" to the pocket more than the FRN when clipped, but it is not terribly abrasive.
For discreet urban carry, the Dragonfly is hard to beat. The small blade length makes the knife unassuming around non-knife people, and has garnered reactions of "How cute!" from people who recoil at the sight of my Benchmade 943 and Kershaw Blur. I've found that for ~90% of my cutting tasks, the Dragonfly's 2-1/4" blade length is just fine. However, make no mistake: this is a small knife. If you like the security of a 3+ inch blade, look to the Spyderco Delica, Stretch, and Endura. But for a compact, effective cutting tool that you'll have on you every day, I can't recommend the Dragonfly enough.
---
Comment by wags 05/14/2014
A large block of cheese is heavy cutting?