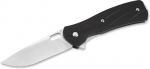 -Price Paid: $15.00
-Used for Every Day Carry
-Owned for 6 months
Comments:
This knife is a wonder for it's cost. It retains an edge incredibly well for its steel grade and sharpens easily. The flipper allows for quick and easy deployment and the clip is discrete and sturdy. I like the tip up design. The handle is pretty good but is not anything super. it also just looks good.
---
Comment by Al 09/03/2013
That happened to me. I promptly sent it back, called up Buck customer service and explained, politely, this was unacceptable. They sent me a new one with a well centered blade.
---
Comment by craig 03/26/2013
I sent mine back to Buck for an off-center blade (rubbing on the liner) and their "repair" was to tighten the pivot screw down so hard that it is now no longer a flipper knife. Makes a great paperweight now!