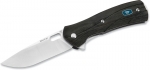 -Price Paid: N/A
-Used for Light Duty/General
-Owned for 3 months
Comments:
The Buck Vantage Pro is one of those knives that seems amazing for the price at first. The knife is made in the USA, has an S30V blade, plastic handles, and all for about 35 bucks.
However, I have to say the build quality on the Buck Vantage Pro leaves a bit to be desired. The action on it is not very smooth, in fact I'd consider it rough. The blade came uncentered, it was actually touching the liner.
The liner lock is a bit flimsy. This isn't a hard use knife for me, so it doesn't matter, but if it was I'd be worried. The thumb hole on the blade is just a bit too small to be really useful, and I use the flipper on the back of the handle to open the blade. The handle is plastic and feels kind of cheap. I also find the blade to be a bit too thick for slicing tasks.
In reality, I think this is Buck's version of the Spyderco Tenacious, but I think they fell short. This knife looks better on paper than it is in real life.
---
Comment by Brad Bentler 02/25/2017
Send it in. Buck has great warranty service!!!
---
Comment by DGoodrow 11/23/2013
Hey Sprowles, you must have somehow got a bad one! I own on and it is perfect in every way. My Buck Vantage Pro came with the blade dead center with absolutely no play in the lock. I own lot's of good name brand knives and this Buck is one of them. Im still getting use to how much more I have to work on it to get it razor sharp but once I get it there it ready to go! I hate that you purchased one that was made on a friday but trust me, it's an excellent EDC knife. I wouldn't trade or sell mine for anything.
---
Comment by Mr. Hall 05/02/2013
Sorry but you must have purchased a bad one. Send it back and get a new one because it is one of the best pocket knives made today! ( mine has none of the flaws your talking about)