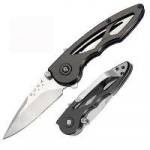 -Price Paid: N/A
-Used for Every Day Carry
-Owned for Greater than 1 year
Comments:
Let me start by saying that I have owned this knife for roughly 4 years and have not had to perform any maintenance whatsoever. I use it daily for light duty tasks (such as opening a box or cutting a zip tie).
The first thing you will notice about this knife is its way cool assisted opening mechanism. The first time you pop this baby open you will have a smile from cheek to cheek and all your friends will want to try it. It glides open with precision and has not worn a bit since I bought it.
The blade is sharp, the skeleton design allows for a decent amount of grip, and the assisted opening is awesome. I highly recommend this knife. And best of all, it's made in the USA!