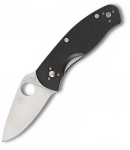 -Price Paid: N/A
-Used for Light Duty/General
-Owned for 3 months
Comments:
The Spyderco Persistence was my first real knife which I received as a christmas present about 3 months ago.
Initially, I tried to use it as an everyday carry knife, however I just couldn't get into carrying a knife every I went.
For a while, I left it in my car, and it came in very handy countless times. It has also made its way into my office and still proved to be useful there. I have considered getting another one many times so I will always have one lying around when I need it.
In terms of build quality, this thing is sturdy and SHARP! Any time I need the sharpest tool that I own, I grab my Persistence. I also like how this knife feels very study in my hand.
The only thing that I don't like about the knife is that when extending the blade, there are actually two clicks. One right before the blade locks, and one right as the blade locks. You can still really feel the knife lock into place on the second click, but I have had a few close calls when using the knife after only extending it past the first click.
Overall the Spyderco Persistence has proved to be an incredible tool to have for a huge variety of purposes.