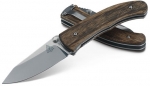 -Price Paid: $63.00
-Used for Every Day Carry
-Owned for 3 months
Comments:
I love this knife. Came razor sharp and the n680 blade steel holds a consistent edge. I was kind of nervous about this steel since I had no previous experience with it, but it hasn't let me down yet.
---
Comment by Dr.A 03/16/2015
Knife is well made with a nice and thick lock. The blade snaps into place very securely. The blade itself is made with quality steel and had a good thickness.My only con with this knife is it came from the factory with all its screws loose. I had to take the knife apart and re secure everything. Other then that, great knife.
---
Comment by T. Flynn 02/26/2015
Great everyday knife. Made very well.