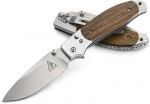 -Price Paid: $38.00
-Used for Other
-Owned for Less than 1 Month
Comments:
Not sure where Benchmade was going with this one, I bought it from an online dealer who's photo was similar to the other vendors except they all left the part out of the photo that stood out like a sore thumb on the blade...the word "CHINA". I had to laugh when the blade also said it was a Limited Edition #3XX of 500. I'll most likely use this one on sprinkler repair jobs.
---
Comment by Mark 02/13/2014
I have collected knives for over 40 years,including some "high end" stuff,and the Lone Wolf Ridgetop is one of my favorites.The blade design is perfect for multi use and the Nak-loc system is ideal. To give this knife a bad review because it is made in China is foolish. For under $40,this knife is an incredible value. I keep one in every coat I own. Mark
---
Comment by a human 12/09/2013
Just because it is made in China does't mean it is automatically a bad knife. Your review is terrible, as it doesn't address any pros or cons of the knife other than where it is made. I understand wanting to support your country's labor force, but plenty of awesome knives are made overseas. It is one thing to criticize a blade for poor quality control, materials, or durability, but do not be so ignorant to talk down a knife because of its manufacturing location.