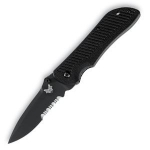 -Price Paid: $125.00
-Used for Every Day Carry
-Owned for Greater than 1 year
Comments:
i bought the plain edge satin blade 913d2 and could not be happier with it.
great blade steel,opens VERY fast and the usual build quality of a benchmade. i own about a dozen and i would say-GREAT!
---
Comment by Mark 08/04/2012
I have to agree with you Chris, I have the "1st production" run of this knife that came out 12 years ago. The diffrence is the original version had a chisel grind blade. I purchased the Nitrous version because I have grown very very attached to my 1st Stryker and did not want to lose it. (This knife went to 3 deployments with me and has never let me down)The 2nd Stryker is a better knife in every way. The deployment is super fast and even though it doesn't have a chisel grind blade it still cut through just about anything.