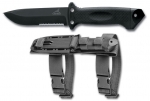 -Price Paid: $78.00
-Used for Outdoor/Survival
-Owned for Less than 1 Month
Comments:
Got the Survival A.S.E.K LMF2 as just what it is- a survival knife. it will be stowed away in an airtight ammo box with oil on metal parts until it is needed (Camping, Hunting, backpacking, etc..) my first impressions of the knife where mixed. i immediately noticed a cheap-feeling and worn-lookin paint job on the blade. i wish it was powder coated like KA-BARS. but the knife is heavy but the most well balanced knife you will ever hold. handle is extremely comfortable any way you hold it and the blade is real secure inside the handle. the pommel could easily crack someones skull or break the thickest glass. since knife is so balanced it excels at slicing and chopping motions, this is going to be a killer firewood knife. here is what i like, and dont like
The GOOD
>Weight- with this kind of heft, you get alot more power and momentum in your swings
>Ergonomics- The handle is just so comfortable, i have small hands (glove size Medium) and any way i hold it i know it wont slip out or lose control, the "finger guards" behind the blade are very nice to rest your thumbs on
>Pommel- although you cant really use the back end to hammer things, you can still smash just about anything with a good whack. the point allows optimum cracking power.
>Sheath- I dont like it as much as the KA-BAR kydex sheath personally, but it is still one hell of a modular piece of equipment. it has a built in sharpener, 3 piece locking system. guys you could literally free fall from space or be thrown by godzilla and this knife wouldnt come out of its scabbard.
>Blade shape- although it isnt the best stabber, the blade shape is highly universal, easy to sharpen with good serrations you could use this thing to do almost anything
>blade steel- Gerber describes it as 420 High carbon stainless steel, which means its a good mix of carbon and iron so it wont rust as easy as 1095, and is also a bit more flexible
>MADE IN USA- unlike most gerber knives this one (aswell as the sheath) are manufactured in good ole America. so i know that an 8 year old yellow-belly didnt put my knife together for 120yen
THE BAD
>Sheath- its also bad in the fact that because of the force of the locking tab, when sheathing or unsheathing you are wearing out the rubber overmolding on the handle. it wont last forever, and eventually that rubber by the blade is goin bye bye (unless you get another sheath like a nice leather one)
>Not full tang- i know gerber wanted to save weight and probly money by not making it a full-tang knife but in the long run it is going to suffer from that. extreme hammering or pommeling will slowly wear n tear on the handle.
>Blade coating- when i got my knife via UPS i unsheathed it and immediatly noticed the cheap quality coating that is on the blade, it will wear fast, and probly wont help resist rust so oil your blade. i might have mine professionally powder coated
ALL-in-ALL its a good knife, durable as hell and will stab or crush depending on what end you use! i know it is described as a survival knife but this is just as easily a combat knife. for the money i would buy it again and recommend to family and friends
---
Comment by KLD 06/26/2014
You do realize that Japan has one of the best steel for knives and it has a very long history making knives and swords that last centuries and can practically cut through anything. Japan has a lot more history of making great knives then america. Although now japan and the US is in some opinions tied on the quality of knife making. Because they share their steal and creations.
---
Comment by Thomas 01/18/2014
Not full tang has a function here, they want to stop electricity going from one end to the other by breaking up the "full-tang" if hitting electric wires when using it.
---
Comment by eodop 10/31/2013
Yellow belly? 120 Yen? Because let's face it the Japanese have a piss poor history of blade making. Vastly inferior to America's long history of of craftsmanship. I doubt you have even seen an an operational environment let alone used a combat survival knife in one.