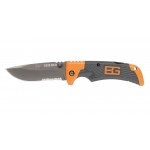 -Price Paid: $20.00
-Used for Every Day Carry
-Owned for 1 year
Comments:
This knife is great. It holds an amazing edge and fits great in your hand. The only thing that i dont like is that it doesnt open 100% smooth after a few months of use but some WD-40 fixes that. Buy this knife. Its an amazing knife.
---
Comment by Matt 07/29/2012
WD-40 is not a lubricant. Try a drop of hoppes gun oil in the pivot next time. It will last longer and work better than WD-40 by a long shot. It's cheap too!