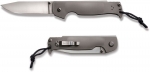 -Price Paid: N/A
-Used for Outdoor/Survival
-Owned for 3 months
Comments:
If your looking for a simple, strong knife this fits the bill. The handle is made from one piece of folded steel which makes it exceptionally strong although a bit slippery when wet. The shape of the handle is well thought out. you can hold it in 3 different ways very easily. towards the back for chopping, the middle for just about everything, and even right up next to the blade for finer work.
I will go ahead and say that it is a very large knife. at 10 1/4" its a little larger than your average pocket knife but I have found that it still fits easily in the pocket despite the size.
The other issue I read about while researching it is that its hard to open. This is very true. It is incredibly difficult to open one handed but for me this is not a serious issue. To me it just makes the knife feel that much more solid. But if being able to flip a knife open quickly is important to you I suggest you pass over this one.
The blade came out of the box razor sharp and it has stayed that way even through some wood carving and general outdoor use.
The bottom line is that this is a super solid knife with a simple design and strong lock. If your looking for a small knife thats easy to open this is not the one for you, but if you want a big strong knife you can count on, the pocket bushman is a great buy.