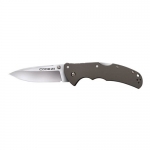 -Price Paid: $120.00
-Used for Self Defense
-Owned for 6 months
Comments:
I have to say I'm from Italy, so you could understand the price and my incorrect English.
I have the CODE 4 TANTO POINT
I really don't know what "tactical knife" means: but this is probably a tactical knife.
The look of the knives is nice, aggressive. The build quality is high, very high considering the price (specially the US price). The issue with this knife is the use you have to do.
The tanto blade is nice but impractical; the titanium handle is too thin for any intensive use (use a pukko knife and you understand what i mean...). The backlock is solid but when you push it the blade runs fast towards your fingers, like a guillottine (in one hand-use).
In my opinion is a nice looking knife, well done and with good quality, but i suggest it only for collection or self-defense (or tactical!).