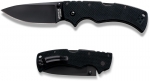 -Price Paid: $60.00
-Used for Light Duty/General
-Owned for 3 months
Comments:
steel: Easy to sharpen, but on the softer side. Edge rolls fairly easily, try and keep the inclusive angle above 30 degrees. Edges are uneven out of the box, one side is about 15 degrees, the other about 30. I have found this to be true of other cold steel folders as well.
handle: too aggressive out of the box (as are all cold steels with this g10). Texturing will tear up your pockets combined with the high clip tension. I solved this problem by sanding down the scales. Now slides in and out of my pocket easily while still having good retention.
comfort: Very good. The choil works well for choking up.
weight: The newest version has no liners so is a few ounces lighter and noticeably thinner.
lock: Superb. Very strong, and designed to accept wear over time.
overall: great buy for around $60.