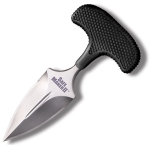 -Price Paid: $100.00
-Used for Self Defense
-Owned for 3 months
Comments:
Safe Maker push knifes - great fix blades not only for self defense but as EDC too. A lot of stupid reviews in the forums that "this knife due to the knife shape can not cut or slice" - boolshit - the knife although is a push dagger can be used as every common knife for any kind of tasks - the handle allow as standard push knife hold (between fingers) as common knife hold including precise fore finger hold. I test it for paper cutting, food cutting, wood cutting, even - for pencil resharpening - perfect performance. The stabbing ability is "top dog".
Negatives - the sheath. I can not understand why cold steel claim that this is "neck knife" and even provide chain lanyard ! So every one is free to try - to pull out the knife when sheath hands from neck is possible but definitely this is very hard and uncomfortable way for deploying! Secondly sheath clips - this is out of my understandings why cold steel do not use a typical user defined sheath clips like Walter Backup knife or TOPS knifes which allows vertical and horizontal montage or montage on both sides of the sheath! The knife is definitely suitable for horizontal carry
---
Comment by Ted A Sames II 07/09/2015
I carry this knife for self-defense and have found the neck carry one of the best ways to carry this knife. I adjust the bead chain very high on the sternum-just below the "V" on a polo shirt. You deploy the knife from UNDER the shirt--Not from the TOP of the shirt. It is extremely fast. The knife can be deployed by either hand, which tactically, is very sound. I always carry this knife in conjunction with a pistol, however. The sheath is well designed and can be lashed to anything or the clip may be utilized. My problem is the sharpening of the knife. I have tried everything. The angle sharpeners do not hold the knife because of its spine configuration...ceramic sticks, for some reason work poorly. I think AUS 8 steel is very soft.