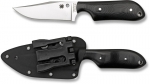 -Price Paid: $180.00
-Used for Self Defense
-Owned for 1 year
Comments:
I have bought and carried this knife for almost a year...I carry it horizontally on the right front, just above my right front pocket.
The quality and handling of this knife is almost perfect, easy to bring it to action and retrieve back to the sheath with no problem at all. The knife is sharp and strong, the handle material is beautifully shape and smooth out, making the grip very comfortable and secure!
The price is not cheap, but for a knife with this type of design and material, one can never go wrong!!