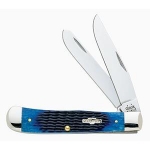 -Price Paid: $45.00
-Used for Every Day Carry
-Owned for Greater than 1 year
Comments:
150 words minimum!!?? I'll stop when I'm done.
I own more than a few Case knives. The full size Trapper is my favorite model. I prefer stainless over their CV steel for a number of reasons. Mostly because I use my pocket knife to cut or peel food when I'm not in my kitchen. The oil one should use to maintain a CV blade is something I don't want on my food and the acids in most fruits and vegetables will immediately show their presence on a CV blade. Yes...I wash and sanitize my carry knife daily.
For perfect fit and finish, I challenge anyone to top a Case Trapper. There may be a few as good but you can't get any better than perfect.
The only time you might catch me without my Case Trapper would be in the shower or on a damn airplane.