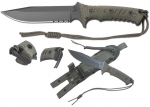 -Price Paid: $190.00
-Used for Outdoor/Survival
-Owned for Less than 1 Month
Comments:
Excellent (perfect) fint and finish and sharpness.
Over the top serration design.
Military knife, not the most useful for anything else.
Great value if you buy it for cheaper or second hand. I cannot use 350$ knives.
Brittleness tests and point accuteness suggests a somewhat fragile tip.
Good alternative to the Green Beret, this is a more traditional military knife.