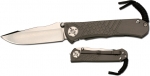 -Price Paid: N/A
-Used for Every Day Carry
-Owned for Greater than 1 year
Comments:
I have one of the Tanto bladed Umunmzaan's, and feel pretty luckky about it. I traded my Sebenza for it, and got the better part of the deal.
The fit and finish of the knife is impeccable, as it should be. It is not a cheap knife, but it will always hold its value because of the CRK spa and guarantee, which will return the knife to as new condition for a small fee (I think it is 30.00).
The knife places the thumbstud in a slightly different place than most knives. It is placed more forward, and took some getting used to. The cushioned studs impact the fram, creating a tremendously strong lock-up. I hate to think what it would take to break one.
One of the more controversial changes probably was the grooves machined into the front part of the frame sides, but this gives the knife a great grip. I gave it a 9 only because I think the Strider SMF feels better in more positions. The Umnumzaan does have a large swelling at the front that should keep your hand from ssliding forward, but it is not as secure a thusting knife as a Strider.
The Tanto blade is razor sharp. Yeah yeah, everyone says that, but I shave my head with mine. I like the blade profile (it comes convexed, my preferred edge) and even the front slant of the tanto edge is hair-popping sharp.
The new perforated bushings do a great job of making the blade easy and smooth to operate. The framelock operates perfectly each time, with that ceramic ball working its stop-magic each time. The locking bar is upswept where your thumb comes across to unlock the knife, making that task a bit easier.
I've never used the glass-breaker, but it would also make a great skull-buster, making the knife a good weapon even closed.
The clip is STRONG, which is what I want on a 400.00 knife
I've had the knife a little over a year, and it is built to last a lifetime.