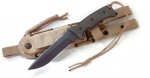 -Price Paid: N/A
-Used for Other
-Owned for 3 months
Comments:
might make a fine collector, as someone mentioned. but tap it on an anvil or a rock and it'll break like glass, which is why i would never want a combat fixed blade made of S30V. For a small folder, or even a small hunting knife that will only cut soft material, it does have pretty good edge retention. But somehow people got the idea that S30V was tough, and it's not, it's actually quite brittle.
---
Comment by atm 04/24/2014
Comments appear to be opinion on steel. Any actual bad experience with the one you own?