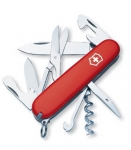 -Price Paid: N/A
-Used for Every Day Carry
-Owned for Greater than 1 year
Comments:
This knife was given to me as a present in the mid 1990's and has been my general use pocket knife since then. It's served literally dozens of different purposes over the years and i've found the screwdriver, scissors, bottle opener and boring tool all useful numerous times. When I moved abroad and had to change all of the electrical plugs on my appliances I just used the small blade and the scredriver on this knife - very handy!
However, most of the time I use the cutting blades for a multitude of tasks - opening boxes, skinning electrical wires, shaving wood and other lightweight jobs. Forthese kind of tasks knife is very good, light and convienient. The blades hold their edge well and are tough enough for medium workloads without chipping. Having said that, it is a small knife and I wouldn't use it for heavy duty work as its not big enough and at some point you would probably snap a blade. Don't view that as a criticism this knife isn't designed for heavy work -its a small multi purpose pocket knife after all.
So, after 15 years of use its still serving me well, there is no wobble in the mechanism and it feels pretty much like new despite a minimal maintenance schedule of occasionally getting cleaned/oiled and sharpened when required. The only signs of use are a few scratches on the face of the cutting blades and chips in the plastic grip which is pretty good for the length of time I've had this.
I did only give it a score of 8 for ergos due to its small size and that getting blades out is a little fiddly. This is maybe unfair as solving these problems would require a bigger body and that defeats the purpose of having a small pocket knife.
Summing up, this has been a great litlle workhorse for me and I'd recommend it to anyone as a useful, small, everyday pocket tool. After all this time its still the knife I carry every day (I have several knives) and I think that says more than anything.