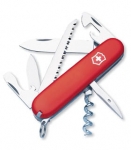 -Price Paid: $24.00
-Used for Every Day Carry
-Owned for Greater than 1 year
Comments:
There are about ten Victorinox knives that I consider truly top tier, and the Camper is definitely one of them. If the Galactic Overlords decreed that everyone must carry one and only one SAK, and they assigned me the Camper, I'd be thrilled that they picked this one for me.
It's a Victorinox, so the standard comments apply: great value, fit and finish very good, time-tested tool designs. The blade takes an edge very well and is extremely corrosion resistant, but edge-holding ability is only so-so.
It's essentially a Spartan (another top-tenner) with a saw. And what a fine little saw it is! It's self-cleaning and seemingly never needs sharpening. It handles branches up to two and a half inches in diameter with ease. When camping (hey!) it's useful for partially sawing thicker firewood... make a substantial cut in a thick branch, then you can whack it against a tree and break it into smaller pieces. For detail work, it's about as good as anything you could get at a high-end woodworking shop. This knife came in super handy when I was building a chicken coop this past spring. I needed to cut openings in particle board with a reciprocating saw, and the Camper was perfect for getting the cuts started: I bored a hole through the board with the awl, then used the saw to make the first have inch or so of the cut. Once this was done, I could fit the reciprocating blade in and go to town. Not sure how I would have done it without the Camper.
The knife also has a really nice form factor. The Camper is the thickest SAK that I consider truly comfortable for pocket carry with any clothes. (The Climber/Climber Plus is just a fraction of a smidge over the line.) Comfortable in the pocket but satisfyingly substantial in the hand.
In my review of the Huntsman, I said I carry it the most often, but that seems to be changing. The Camper (with a micro-screwdriver in the corkscrew and a straight pin in the little hole) paired with a Manager on my keychain gives me an excellent tool set in a form that's noticeably more comfortable to carry than the Huntsman. This combo is becoming my go-to EDC set up.