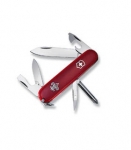 -Price Paid: $17.00
-Used for Every Day Carry
-Owned for Greater than 1 year
Comments:
This is one of the most classic of Vic Swiss knives. I have owned several of them over the last few decades. They hold an edge well and resharpen easily. This knife can be carried in virtually any environment without being considered threatening. It has the perfect blend of tools that one could imagine using with the exception of the awl. It does not have that horrible cork screw either!
You could carry this knife anywhere at anytime except of course airplanes and schools. It goes well on a key chain if it is not already burdened with numerous other gadgets.
I carry one in the front pouch of my survival knife sheath and have an extra in my car.