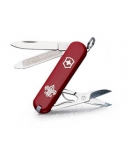 -Price Paid: $10.00
-Used for Other
-Owned for Greater than 1 year
Comments:
this is a long time classic as the name implies.
it is plenty ergo even in my extra large hands, and fits easily in any pocket.
this comes with the basics, take it anywhere always have it.
the only bad thing is the cost, premium tools have premium prices.
and of course if you get a real one victorinox brand it will have a lifetime warranty.
for gear heads upgrade to a ranger or maybe a champ they are awesome.
this is a good starter first knife thing get it for your kid you will be happy and so will they.