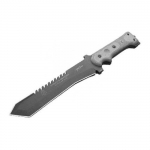 -Price Paid: $180.00
-Used for Outdoor/Survival
-Owned for Greater than 1 year
Comments:
I too watched videos and read reviews about this knife before I found a dealer that sold the knife. I don't remember where I first saw the knife but I can remember how impressed I was with the design. My first thought was that it was show and no go since that's the general implication for knives that look 'cool'. I knew nothing about the company at that time so I decided to check them and their knives out. After reading many reviews and watching several videos on the knife, I decided to buy from a dealer here in Louisiana. I could not be happier that I did! :)
First we'll talk about the sheath. It's made of ballistic nylon for heavy duty wear resistance, has 2 lanyard holes at the bottom and the top, and has to small pockets on it. It also has a nice molle system on the back of it. One of the pockets comes with a rescue whistle and the other is large enough for a sharpening stone though I'm sure that's not the only items you could think to put in those pockets.
The knife itself is SUPER heavy duty! It's 3/16" thick and 14 inches long! It is definitely built for heavy chopping and cutting and even has a small recurve close to the handle for precise shaving and/or cutting. Being made from 5160 spring steel it won't take a razor's edge but is more than sharp enough to shave the hair off your leg or arm. I will also say this though, a heavy chopper shouldn't have a razor's edge anyways.
The top of the knife has a set of saw teeth on the back but to be honest, I have found a need for that yet but I'm sure it'll be useful one day. :) The handle of the knife has a spiked tip at the bottom that is great if you need to mark rocks or break glass. It's also made of linen micarta which is VERY durable and won't slip when wet. On top of that it's got a dimple in it so you can use it for your bow drill.
Overall this is an amazing knife. I have not one bad thing to say about it but I will say it could have left off something. The 'back up' blade on the spine of the knife could have been left off. It doesn't hinder the knife at all but it serves no purpose. It's suppose to be a back up blade in case the functioning blade gets damaged but you can't put a good edge on it at all because of the design. The knife is too thick in that area to be able to get the right angle on it.