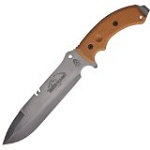 -Price Paid: $135.00
-Used for Outdoor/Survival
-Owned for Less than 1 Month
Comments:
This knife is the best all around knife there is, nothin' beats it!
As far as batoning, you hit the batton on the handle side, it's different, but will work way better than hitting the sharpened top. Takes about a minute of practice, then easy.
You can also purchase the non-sharpened top version, also a serrated version.
You can even use the pinky grip, see mfg home page, for real close up work if needed. I personally carry a smaller EDC knife for small work, so this is my BRUTE FORCE KNIFE, although it will handle most of the fine stuff to with my large hands.