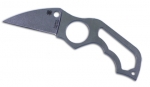 -Price Paid: N/A
-Used for Light Duty/General
-Owned for 3 months
Comments:
I have to say I'm very impressed with the swick. I bought this knife because it was different and I liked the shape. I really didn't have any other reason, as I certainly wouldn't carry a neck knife.
I've come to find that this knife makes an absolutely KILLER craft and utility knife. I build guitars and have other little crafts and hobbies that I do and this knife really comes in handy.
The finger hole makes it so that you can hole it in your hand while working with your fingers. You can just slide it down your pointer finger out of the way until you need it. This hole also provides excellent blade control for precise cutting.
The knife itself is nice and light, made with CPM-S30V steel. S30V is great. It takes some effort to sharpen but gets super sharp and stays that way.
In terms of the ergonomics, it holds very nicely. Some people have mentioned that they find it a bit thin, but I don't have this issue. If it is a bit thin, some smartly wrapped parachord would fix it right up.
I bought mine for 40 bucks during a sprint run. Can't beat that price for a knife that's made right here in the US(Golden CO). One thing to note is that it came without a sheath. You could make your own or there are people who sell kydex sheaths for them if you look around.
I can't really speak to how this would handle itself as a neck knife, but I can say that as I craft knife, I highly recommend it.