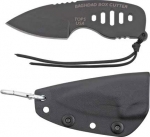 -Price Paid: $80.00
-Used for Every Day Carry
-Owned for 1 year
Comments:
For a long time I have been looking for fix blade knife small enough to be carried on my belt under pleat of shirt and this is the choice. 1095 steel,12 cm long (5.5 cm for the blade), 6 mm thick with anti corrosion coating and . Small good looking EDC all purpose knife. The handle is small than hand but the design allow comfort grip even with three fingers. However this is very short blade and there is almost no cutting ability but the knife is suitable to be attached to shaft and used as machete or spear. Curve in the front of handle serving as guard - the knife is comport for normal and reverse grip. I used this intensively during last months from garden work and mountain expedition to the office tasks, in winter and summer conditions - extremely handy sturdy little knife. My brother who is enthusiastic outdoors man found that it is suitable for any bush crafting activities
---
Comment by craig 06/01/2013
I though you had to know how to spell to work in an office.