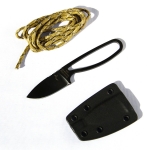 -Price Paid: $65.00
-Used for Outdoor/Survival
-Owned for 3 months
Comments:
This appears to be a new company, but it looks like they took their time coming to market as this inaugural knife appears to be the design of seasoned vets. The knife is lightweight and very practical for backpacking (what I primarily use it for). From my experience D2 isn't the toughest steel, but the relatively small size of this knife seems to help negate this potential weakness. The tradeoff is a compact easy to carry knife that holds an edge better than any other knife I've owned. The knife also comes with paracord (the have a huge selection of colors and styles)which wraps really nicely onto the handle; again from a outdoors-man perspective this makes a very nice handle for the knife that can also be used as rope or fishing line in a bind. All in all a great knife and I look forward to seeing what products come from this fledgling company in the future.
---
Comment by Nate 08/19/2015
D2 is actually better known for its wear resistance than its toughness (aka impact resistance). It takes a great edge and HOLDS it! That said, it's also a decently tough steel. It's a great all around steel and you can't go wrong with D2 IMO. There are tons of great steels out there, so if you ask 5 different people you'll get 5 different favorites lists based on their personal preferences.
---
Comment by Any Body 08/17/2015
I'm not a knife expert, but I was under the impression that D2 was one of the toughest steels used for knife blades. Could someone list the top 5 or so steels?Thanks.
---
Comment by Nick 05/19/2015
How do you give a 10 to every category and then overall get a 9?