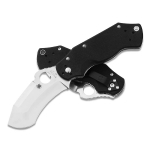 -Price Paid: N/A
-Used for Every Day Carry
-Owned for Less than 1 Month
Comments:
The first thing most notice about the blade shape is its unique, bull nose shape. This knife is not a stabbing knife, but the blade is meant to assist with cutting, especially in slippery conditions. Since I personally don't do much stabbing, and much more cutting in everyday use, I find the blade to be very usable in ordinary circumstances.
I find that when opened, the choil and part of the handle become an ideal finger groove, allowing the user to really choke up on this blade, while the machining on the top of the blade really grips the thumb. Overall, control of this knife is superb.
The only reason this knife scored a 9 instead of a 10 on build quality was that there is a visible and slightly rough machine mark within the spyderhole. Aside from that, everything is as it should be.