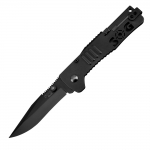 -Price Paid: $60.00
-Used for Every Day Carry
-Owned for 3 months
Comments:
This is at the moment the slimmest assisted opening knife. SlimJim comes in two sizes, normal and XL and tanto and clip point blades.
The opening system works very well and locks firmly. This knife has a back lock mechanism with additional locking switch which locks the back lock release. This kind of security is mindblowingly simple and it should be mandatory in all back lock knifes.
Even the knife is very thin you get a firm grip on the handle without getting your palms bleeding. No sharp edges (xcept for the blade). Because the knife is very light (68gm) you won't even know it's there whether it is in your pocket or backpack.
---
Comment by draven13 03/24/2016
True on the locking mech. I found if u take a pair of pliers u can pull that sliding piece off thus eliminating the catching on the pants prob.(A pop. Issue.)