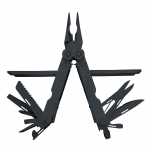 -Price Paid: $69.00
-Used for Other
-Owned for Greater than 1 year
Comments:
I work as a heavy equipment mechanic and have owned Leatherman (my first), Gerber (least liked), victornox (on par with leatherman) and Sog (most owned and used).
I have multiple iterations of the sog power plier (including a non-patented " first edition") and it has outlasted all other multitools I have owned.
The first thing that stands out is the gear mechanism, which not only compounds leverage applied to the handles but also allows the tool to be used in semi-closed position (perfect for confined spaces and applying more pressure). This gear feature also allows the tool to easily be opened one handed.
The ability to change out accessory tools is ingenious and user friendly. I am not a big fan of the "piano key" style lockback that newer versions are equipped with; prefer the solid one piece lockback.leather sheaths are not much thing, preferring the nylon as it is more favorable in my working environments. I truly favor their neoprene (not released) that allows the too to be mounted in a number of positions (vetical or horizontally).