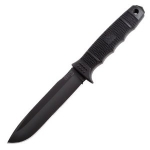 -Price Paid: $90.00
-Used for Outdoor/Survival
-Owned for Less than 1 Month
Comments:
Been searching for a new survival knife for a while and decided to give Force a try. As Cold Steel Srk my reference knife I compare all survival knives for it.
SOG Force is very much like SRK: Blade length is identical, total length difference is about 1cm but weight wise Force is about 50g heavier making it more efficient when chopping.
Blade is roughly 1mm wider so it should withstand prying better. The shape of the blade looks more sleek even they are almost identical.
But... My problem with the knife is the glass inforced nylon with rather rough surface. With bare hands you just can't work with the knife longer periods without giving your palm a rest. Ergonomically SRK beats Force hands down.
On the plus side Force comes with a nylon sheath with a small pocket you can stash a fire starter / file.
Despite the rough handle I recommend this knife for survival / outdoor use.