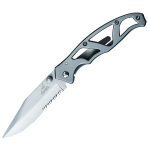 -Price Paid: N/A
-Used for Light Duty/General
-Owned for 6 months
Comments:
It's an ok knife. For the price it's pretty good. I don't remember what I paid for it exactly but it wasn't too much. It was sharp when I got it and I don't have to sharpen it too often. When I do I just use a whetstone.
I don't really like the skeletonized handle. It doesn't provide the best grip overall and I'd have prefered a material with better grip. It works though.
It's easy to flip open with one hand using the thumb stud, and it's easy to close as well. I've had no real problems with this knife.