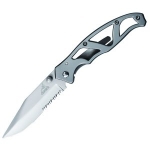 -Price Paid: N/A
-Used for Light Duty/General
-Owned for Greater than 1 year
Comments:
I bought this knife while my regular knife was being modified.
I like the feel of it its light, slim, fits the hand well, and is convenient to carry. It has an ambidextrious thumb stud (though not necessary for myself). I personally don't care for the serrations on a blade. The blade tends to get loose and tightening it up with the screw helps but makes it stiffer to open also. One complaint is when carried with change it is not uncommon for a dime to slide in beside the blade of a knife, however, it gets locked into this one and can be a pain to open.
The knife is fine for the price and I don't regret buying it.