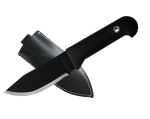 -Price Paid: $25.00
-Used for Light Duty/General
-Owned for Greater than 1 year
Comments:
The rodan is a budget version of a Becker Companion. It is kind of bulky with a handle like a baseball bat. I like the Condor for the most part, but am disappointed overall in this knife.
---
Comment by Dan 04/14/2012
This one tough knife, thick blad, thick, handle and carbon steel. I thought at first it was a little bulky but you kind of grow into it. The sheath is excellent and holds very well. Both knife and sheath appear they could take the heaviest harshest use, you could dish out. Has to be one of the highest value Bushcraft type knives available. Along side the KaBar Becker BK2 the design is almost identical, the condor is lighter, alittle thinner. Super value blade.
---
Comment by tim 12/26/2011
i have this knife solid good steel kinda big in the handle but comfortable and cheaer than the bk2 with a way better sheath!