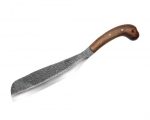 -Price Paid: $40.00
-Used for Outdoor/Survival
-Owned for Less than 1 Month
Comments:
A Parang has been in my got-to-have-list for two years and I finally made the purchase after the machete failed.
This parang is really heavy duty unlike Bear Grylls parang. Its heavy, has a thick blade and really sturdy hardwood handle. The weight is about 2 lbs making it a tad too much for my feeble powers to do some serious chopping more than 5 mins in a row.
Due to its weight the handle plays very important part of using this parang. The steep curve at the end of the handle provides much wanted support when swinging a tool this size. Without that backing support the risk of the parang slipping out of your control is quite high unless you squeeze the heck of the handle which would make your hand tire faster.
In addition I recommend using a lanyard for added support if you are using gloves.
The blade is high carbon steel with classic finish (dimpled) and the thickness is 3/16" which is roughly the same you find on survival knives. Blade comes razor sharp and on my very first unsheathing the blade cut through the stiching (never grab a hold of the sheath under the sharp edge of the blade).
After spending an hour hacking through bushes and fallen tree trunks (1-2" diameter) the blade was like new. No dents, no bending, still cut through paper effortlessly.
Sheath is constructed of thick layers of leather and stiched together with strong string (my version was probably just a bad one). The blade is kept on sheath with two button straps and it has really thick belt loop.
Parang is quite versatile tool because it can serve as a small shovel/spade. Also the idea of parang is to have three different edge angles divided in 1/3 sections. First section from the handle is the sharpest for fine carving, then the wider angle for hacking and on the point something in the middle of these two. Basically I prefer having 1/3 fine and 2/3 wide for easier maintenance.