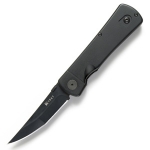 -Price Paid: N/A
-Used for Self Defense
-Owned for Greater than 1 year
Comments:
this is easily one of the most intimidating knives i have ever owned. the blade took a while to build the edge to my likings. the auto-lawks feature is very cool and give the added extra security against having the blade close on my fingers. i know CRKT says this can stab through a board of plywood and i don't argue with it. i wish they were made in the USA.
---
Comment by jimmy johnson 04/28/2013
A great edc,defensive knife. I NEVER use my self defense knives to cut anything. I save them for the job that I hope never comes. This is one fine penetrator. Rock solid too.