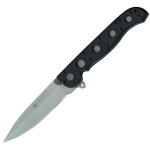 -Price Paid: $40.00
-Used for Every Day Carry
-Owned for Greater than 1 year
Comments:
Reviewing an old knife I no longer carry is a bit odd, but I noticed it didn't have a review, so I figured I'd throw one out there.
I purchased one of these knives 12 years ago, back when I was in Boy Scouts. It was my first true folder of any worth, and I carried it everywhere I was allowed to (obviously, no pocket knives permitted on the neutered school campuses of today :-/). That included countless trips to the middle of nowhere in Texas on Scouting trips. I beat the hell out of that knife over a 5 year period before the little ball bearing on the liner lock (that helps keep the blade closed) was worn flat so it wouldn't reliably stay closed in my pocket.
I still have the knife, and for whatever reason, have not sent it in to be replaced, as I'm certain CRKT would do. Maybe I'm overly sentimental, I don't know. However, other than that little bearing wearing out, the knife still works fine. It still holds an edge fairly well enough for EDC use, and still opens smooth as butter. Are there better knives out there? Yeah, probably. But you'll pay more for them. For a $35-40 knife, it's hard to beat!