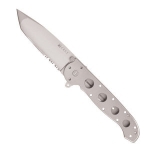 -Price Paid: $70.00
-Used for Every Day Carry
-Owned for Greater than 1 year
Comments:
I've owned this knife for several years now and carry it everyday. It's very strong and durable and I've developed complete confidence in it. The titanium handle scales give it a much thinner profile than CRKT's other knives with similar blades. This makes it much easier to carry. The blade is very good steel, which is somewhat hard to sharpen (mostly due to the chisel grind), but holds an edge quite well. I've used it for cutting, prying, scraping, digging, turning screws, and even light pounding. It's been to Afghanistan and Iraq and performed each time as both a tool and a backup weapon. The liner lock works very well, but I like the dual locking mechanism a lot as it gives me another level of confidence in the lock.
The only problem I've had is the extremely deeply cut knurling on the opening-assist knobs and the pivot bolt. This knurling proved to be very damaging to clothing, but I fixed it easily with a small file to partially smooth down the knurling.
Overall this is a great knife and I highly recommend it to anyone.