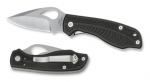 -Price Paid: N/A
-Used for Every Day Carry
-Owned for 6 months
Comments:
Overall this is not a bad little knife. I think I payed 20 dollars shipped for it. I bought it to EDC and to use as a beater. At $20, I pretty much consider it replacable.
This knife is made in China, but has pretty decent build quality. It is made with 8Cr13MoV steel, which isn't anything to write home about, but isn't bad at all. The edge holding isn't amazing, but nothing to complain about. Easy to sharpen as well.
It's easy to hold in the hand and has nice G10 scales. I haven't taken it apart, but it looks like it has delrin or similar bushings at the pivot. The pivot has loosened up nicely and is very fast and smooth now. The liner lock is sturdy enough for every day tasks, although I'm not sure I'd want to rely on this knife for camping etc. Blade shape is good, big enough to be functional, small enough to use in the office without worring anyone.
My one complaint is that I lost one of the small torx screws that hold it together. Not easily replacable at the hardware store. I'd recommend using some non-permanent thread locker on them to hold them in.
All in all, it's a solid knife that's light and easy to carry. If you're looking for an inexpensive knife to beat around, I'd recommend it. If you're looking for a survival knife, I'd find something a little nicer.